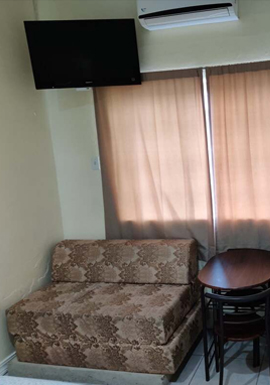 BEST HOTEL IN TRINIDAD AND TOBAGO
This Guest House in Woodbrook in Port of Spain, has multiple units which are self contained.  The property is fully secured with parking, internet access and cable TV. It is located just off Ariapita avenue in a gated compound. All units are air conditioned and monitored 24/7 by CCTV cameras, the premium units also have ceiling fans.
This boutique hotel is conveniently located close to Ariapita Avenue and is a great location for dining and entertainment. The property is perfect for:
Small functions and groups
Carnival Accommodation
Hosting for Medical patients
Transit Stop for Air and Sea port
Short Stay and longterm hosting
Air and Seaport shuttle service
We also offer car rentals and special accommodation packages for people attending training at the Police Training Academy.
Explore the Neighbourhood
If you need one of the best cheap hotels in Trinidad Port of Spain, Woodbrook on the Avenue is the perfect guesthouse to host family or friends. It is close to the national stadium for sporting events and the Queens Park Oval for cricket. We offer wheelchair access and transport to patients and/or guests who need access to medical facilities.
Our Gallery
All
Deluxe Queen
Queen
Cottage
Apartment
Common Area
Testimonials
"Very impressed. Our host, Ruthven, was pleasant and helpful. Airport pickup was smooth. Room was clean and spacious, with everything you need for a stay. Would definitely stay here again." Sharon Hurley Hall (Barbados)
"I greatly enjoyed my stay at Woodbrook on the Avenue. The apartment is very reasonably priced, exceptional location, clean and quiet. The host Ruthven was very warm and welcoming, and made himself available whenever I had any questions." Julien (USA)
"Clean, quiet and reasonably priced, this guest house is in a prime location in the city. Just around the corner from the main bar and restaurant scene, a nearby supermarket and its proximity to the main sites in town, makes this the ideal place to stay." Mike C (France)
Super clean, great facilities, nice location, really friendly staff. Unbeatable value for Port of Spain. Ben (UK)
Our Rooms
Woodbrook on the Avenue (hotel in Trinidad Tobago) offers premier hotel-type accommodation in Trinidad but provides home hospitality away from home. It is a preferred guest house in Port-of-Spain, that can also host functions, provide easy access to the embassies, for people seeking visa and consular services. There is free WiFi throughout the property.
Guest rooms are fitted with a TV with cable channels and a kitchenette. Two of the rooms are fitted with a shared bathroom. There are free toiletries for all, while certain rooms come with a patio.
Our Amenities /Services
Cable Television
Airport Transportation
Free High Speed Wi-Fi
Secured Parking
Scenic Tours